---
Nathan Stanton, eldest son of owner, Bryant Stanton, is the master woodworker here at Stanton Studios and produces custom masterpieces for residences, churches, universities, and businesses. Unlike most of the Stantons, who specialize in glass, Nathan has found his niche in woodworking! Nathan has explained to me what he does around the shop, how he came to learn his trade, and why he does what he does.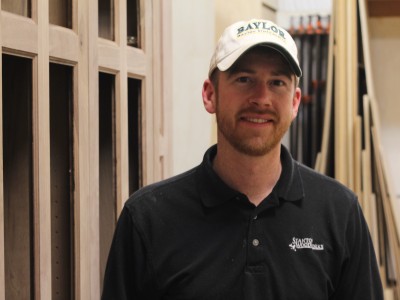 Nathan has been professionally working with wood for approximately 14 years. He began learning his craft at about fifteen years old and started out working for a neighbor who was proficient in construction and remodeling. Nathan found that he had a skill in this area and decided it was something he'd be interested in pursuing. This is where he began his journey into finding his passion: woodworking. Nathan then worked for a woodworker making cabinets for two years and perfected his skills before coming to Stanton Studios to work on wood full-time for his father. Thus, Stanton Studios was expanded and our wood shop was born
While working for Stanton Studios, Nathan has created many custom masterpieces, including kitchen cabinets, bar cabinets, library shelves, as well as window frames and tables. Nathan has created the most intricate and challenging custom pieces, some of which include a ping-pong table, a mantle, and many unique sets of cabinets and shelves. Nathan admitted that he still remembers his first kitchen cabinets that he had built and recalled knowing at that moment that woodworking was what he wanted to do.
As Nathan has perfected his skill over the years, he admits that his favorite shop activities and projects have come to include projects that are more difficult, unique, and challenging. His favorite projects that he's worked on are some of the most iconic works in wood that Waco has yet seen, like the famous green door that is located downtown and the beautiful Adams library cabinets that were done for a residence. Not only has Nathan worked on pieces that are exclusively wood, he has also worked with the glass shop to complete many frames for the stained glass windows that pass through Stanton Studios. Nathan has created countless magnificent works and we can't wait to see his latest projects complete!
Currently, Nathan is working on quite a few pieces for a loft called Altura in Waco, Texas. He has fabricated cabinets for a kitchen, made a library shelf, and quite a few doors for one of the loft's residents. The projects just keep coming in and Stanton Studios couldn't be happier to have Nathan work on such wonderful custom works! Pictured below are the cabinets and shelf structure that has been made for the library. The picture gives an example of the progress of the cabinets. Nathan builds these structures out of quality wood from a wonderful design that is provided by the owner and designer, Bryant Stanton, before staining it and installing it. Nathan has told me that usually an average set of cabinets for a kitchen takes about a month or two to complete, and Nathan anticipates being done with most of the projects for this loft in March of the new year!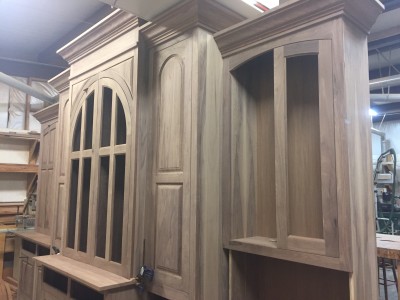 When asked about how he feels about working with his family, Nathan says, "This is the job that most people would die for. I get to work with people I know and love." Nathan is a primary member of the Stanton Studios team and he is the best woodworker Stanton Studios could've asked for! Since Nathan is the only member of the Stanton family who has a specialty in woodworking, he has really expanded the capabilities of Stanton Studios. If you enjoy Nathan's work as much as we do, visit our portfolio page and see what other wonderful works Nathan has worked on!
---
We really love having Nathan working here with us and we couldn't be more proud of all the woodworks he has successfully built. No one makes our designer's work come to life like Nathan and his woodworking. We wouldn't have the beautiful frames for the stained glass windows or the iconic green door in downtown Waco without the building expertise of Nathan Stanton! We look forward to seeing what beautiful woodwork he'll create next.