Bryant Stanton - Owner and Designer
Stanton Studios, expanded from well-known Stanton Glass Studio, was founded in 1979 by Bryant Stanton. The company began as a rented workbench in a shop with a couple crates of glass and has grown into a nationally-recognized business with work displayed in businesses and homes across Texas and the United States. Stanton Studios is run by Bryant and his four sons.
Suzanne Stanton: Accounting
Suzanne Stanton, wife of Bryant Stanton, is responsible for invoices, billing, and records at Stanton Studios. Suzanne works with the client to negotiate payment and handles all clerical duties in regards to accounting.
Nathan Stanton: Master Woodworker
Nathan Stanton, son of Bryant Stanton, oversees and executes the fabrication and installation of all projects associated with Stanton Woodworks. Nathan creates unique, custom woodworking pieces for businesses, residences, and churches, including but not limited to tables, cabinets, desks, and frames for stained glass windows. Nathan can often be found operating a table saw and taking measurements in his wood shop.
Jordan Stanton: Operations Manager and Glassblower
Jordan Stanton, son of Bryant Stanton, is responsible for overseeing production and installation of all projects that are accepted by Stanton Studios. Jordan also specializes in glassblowing and is the lead glassblower of the popular seasonal glassblowing events. Jordan can often be found in meetings with the staff, giving direction, or blowing glass in the winter months.
Samuel Stanton: Floor Manager and Glass-Color Consultant
Samuel Stanton, son of Bryant Stanton, is a master stained glass craftsman, with a specialization in stained glass color selection for new and restoration pieces. Samuel matches certain shades of color to execute the clients vision and Bryant's design, or finds the perfect match a previously destroyed piece of glass. Samuel can oftentimes be found looking for the perfect shade of glass.
Timothy Stanton: Glass Craftsman and Glassblower
Timothy Stanton, son of Bryant Stanton, is a master stained glass craftsman and has built hundreds of new windows and restored countless ecclesiastical pieces. Tim also specializes in glassblowing and can be found at the seasonal glassblowing events with his brother, Jordan.
David Louth: Glass Craftsman
Aaron Haas is responsible for the processes involved in waterproofing new and restored windows. Aaron creates our special grout mixture, applies the mixture to the gaps in the lead came, and picks and buffs each window so it's ready for installation. Aaron can oftentimes be found in the mud room with a buffing brush in hand.
David Louth is a stained glass craftsman that has worked with the Stanton Studios team for over 5 years. David is responsible for building and soldering new and restored stained glass windows and his work is always exemplary!
Tessa Wollard: Glass Painter
Tessa Wollard is our master stained-glass painter! She is especially exceptional in her ability to capture hands and faces for ecclesiastical pieces, and we always enjoy seeing her phenomenal work.
Elizabeth Stanton: Marketing
Elizabeth Stanton, wife of Timothy Stanton, is responsible for the newsletters, blogs, and social media for the Stanton Studios team. She can oftentimes be found with a camera to document the artwork and processes involved with creating each piece.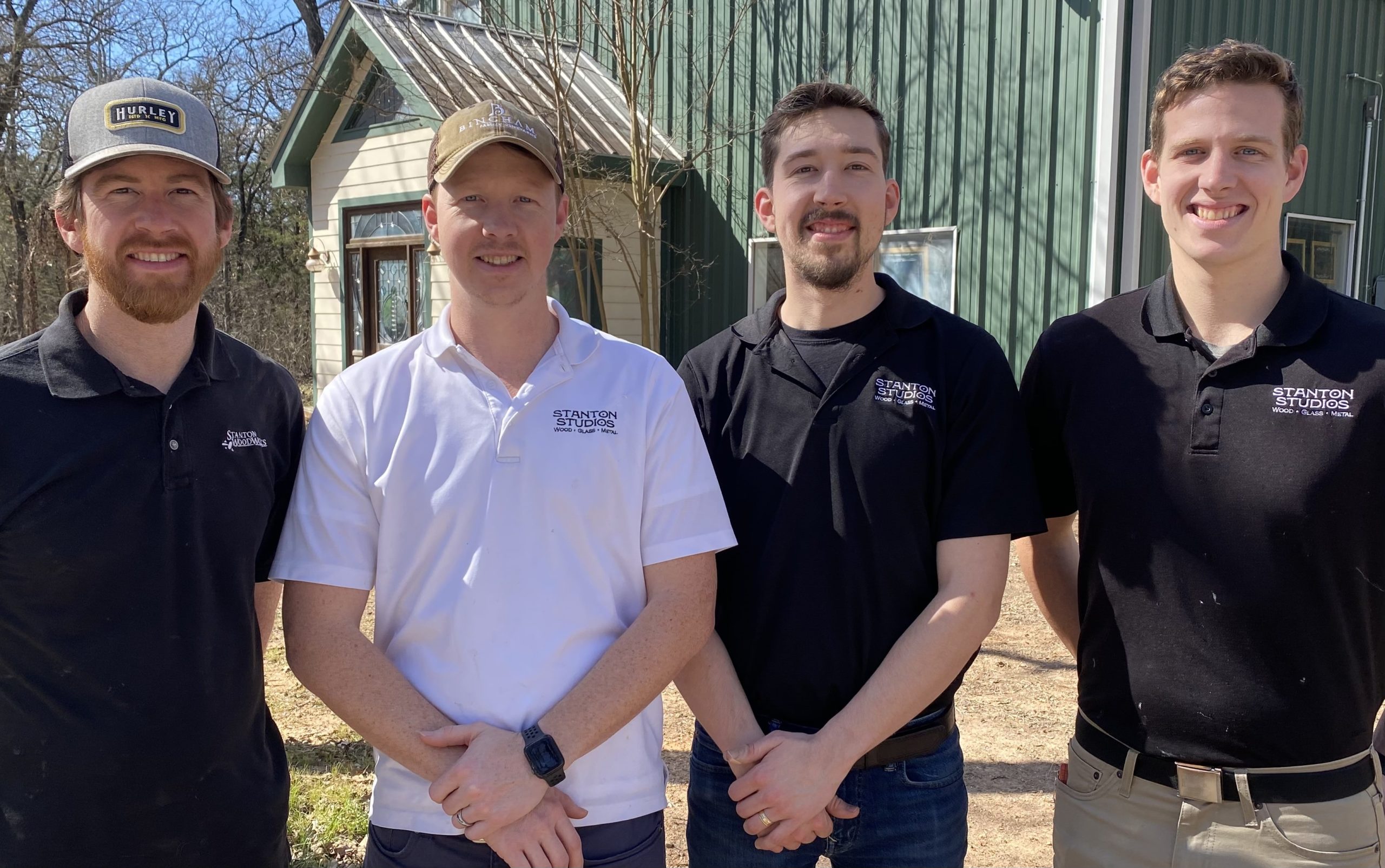 We are a family owned and operated business. We provide excellent service, high-quality work, and a quick response when you hire us for a job. Whether you need us for window and panel repair, stained glass restoration, or custom design, we deliver results that meet and exceed your standards.
OUR PORTFOLIO
Interested in becoming a member of our team?
Email or contact us at 800-619-4882 to find out more about becoming a stained-glass craftsman in our shop!