Here at Stanton Studios, we have a team of talented craftsmen who have produced gorgeous glass, metal, and wood masterpieces. Have you ever wondered what goes into the process of making architectural art durable and able to withstand the elements? Architectural art that is produced by Stanton Studios is more than just fragile art that is displayed in a gallery. Stanton Studios must create designs that are magnificent and breathtaking, but also able to withstand nature as a piece of architecture.
I had the pleasure of speaking with Aaron Haas, one of our talented craftsmen who specializes in making the stained glass windows that pass through our shop as durable as any other window. Aaron has explained to me what he does here in the shop, his experiences, and why he does what he does
---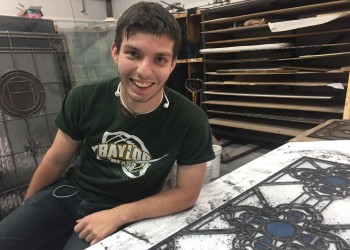 Aaron has been working for Stanton Studios for two years and couldn't be happier with his position and what he does here. Aaron can be found helping out with restorations by taking apart and cleaning windows, doing leading of windows, and helping with installations and taking windows down. Aaron has experience working with many windows and has built his knowledge to be able to do any and all of the processes involved in building windows.
Though Aaron does many different jobs throughout the shop, Aaron's specialty is grouting, which is otherwise known as waterproofing or mudding. Aaron is working on a window that is going to be placed in a residence as sidelights on the side of a front door and has explained how the process works.
The secret recipe for grouting that Stanton Studios created is spread all over the built stained glass window. Eventually, the layer dries and can be taken off and the glass can be picked and buffed. Because a stained glass window is not perfectly smooth due to the lead that holds the glass pieces in place, a pick must be used to get the excess grout or "mud" out of the crevices in the stained glass. The process of picking and buffing is done several times before the window can be flipped over and the entire process of grouting can begin again.
---
Pictured above are a few stained glass windows that Aaron has had the pleasure of grouting. He has made them water-tight and able to withstand many of nature's obstacles, all while beautifully reflecting colors into the edifices they are now displayed in. Aaron has expressed that these were some of his favorite pieces to work on, and that the intricate patterns on the windows made for more of a challenge when picking during the grouting process. Aaron really enjoys the process and the attention to detail, saying, "I like having a project I can work on all day." Oftentimes, Aaron can be found working in the mudroom for hours on end, completing a big project.
---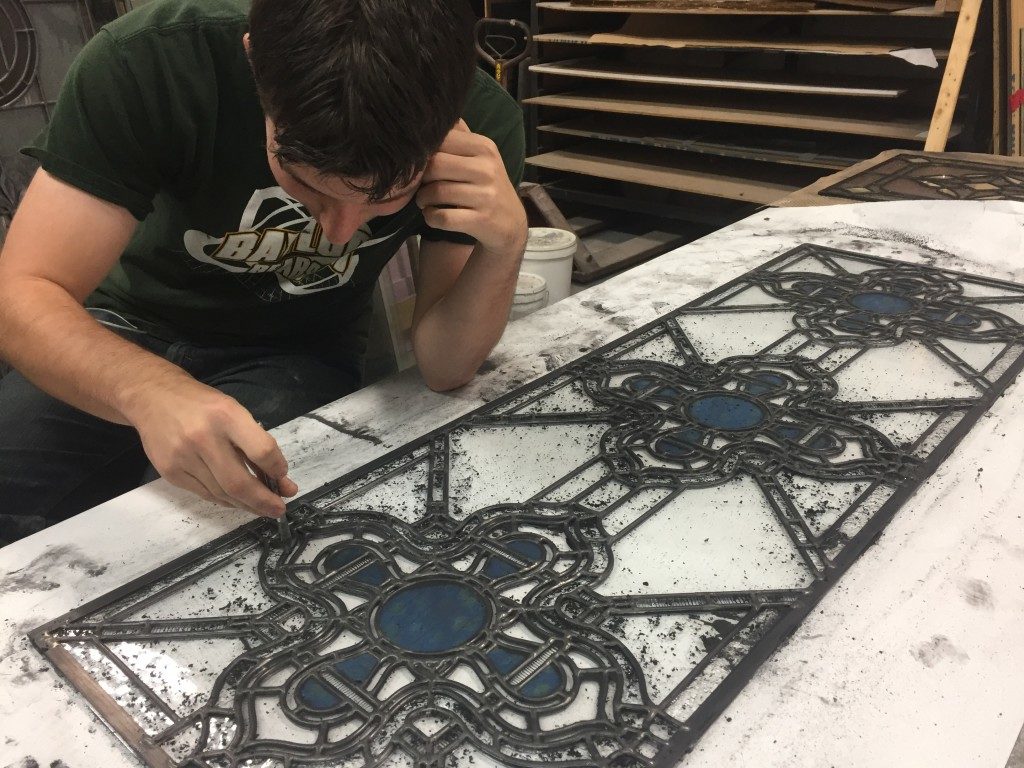 When asked about his job, Aaron says, "My job is very important because without it, the windows would leak and be ruined!" Aaron claims that grouting is his favorite job and he loves being a "mud monkey," as the other workers in the shop refer to him. Though Aaron anticipates being a residential designer some day, he says, "It's the best first job I could ever ask for."
Because Aaron's specialty is grouting, he has a deeper understanding than most that stained glass windows are more than just a pretty piece of décor. Stained glass windows have to be built to last, weathering storms and keeping out the elements in someone's residence, in a church, or university. Stained glass windows need to be just as functional as an average window, but with twice the beauty. Though this requires a pretty tremendous amount of work to make the windows durable and sturdy, the finished product is worth it.
---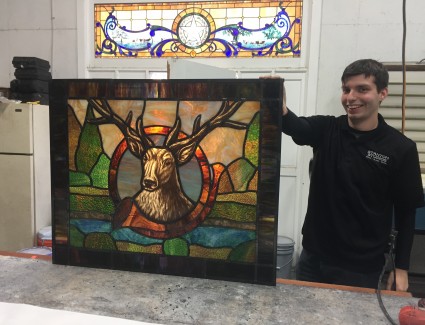 From restorations to making new stained glass works, Aaron has worked on taking apart the windows and putting them back together in a way that they will last a lifetime, leaving his mark on the shop and the art that passes through here. Aaron says that he has been given a wonderful opportunity to be around such a rare and obscure art, saying, "I hardly ever get to see windows like this and it's interesting to be a part of making them." When asked about the rest of the Stanton family that works in the shop alongside him, Aaron admitted, "They are basically family. It's a close environment with really friendly people and I love working here, honestly."
---
We love having Aaron in the shop and are looking forward to many more projects that he will be able to put under his belt. No one does a better job of mudding than Aaron, and all of our skilled artisans are very happy to be working alongside him. Aaron is a great worker and a key member of the team of artisans. We look forward to many more years and beautiful pieces to come!
---