---
Jordan Stanton, son of owner Bryant Stanton, is the manager here at Stanton Studios and has explained his role here at the shop as well as how he feels about coming to work with all of the employees in the shop! In return, the artisans gave their input of what they think of having Jordan as their manager!
---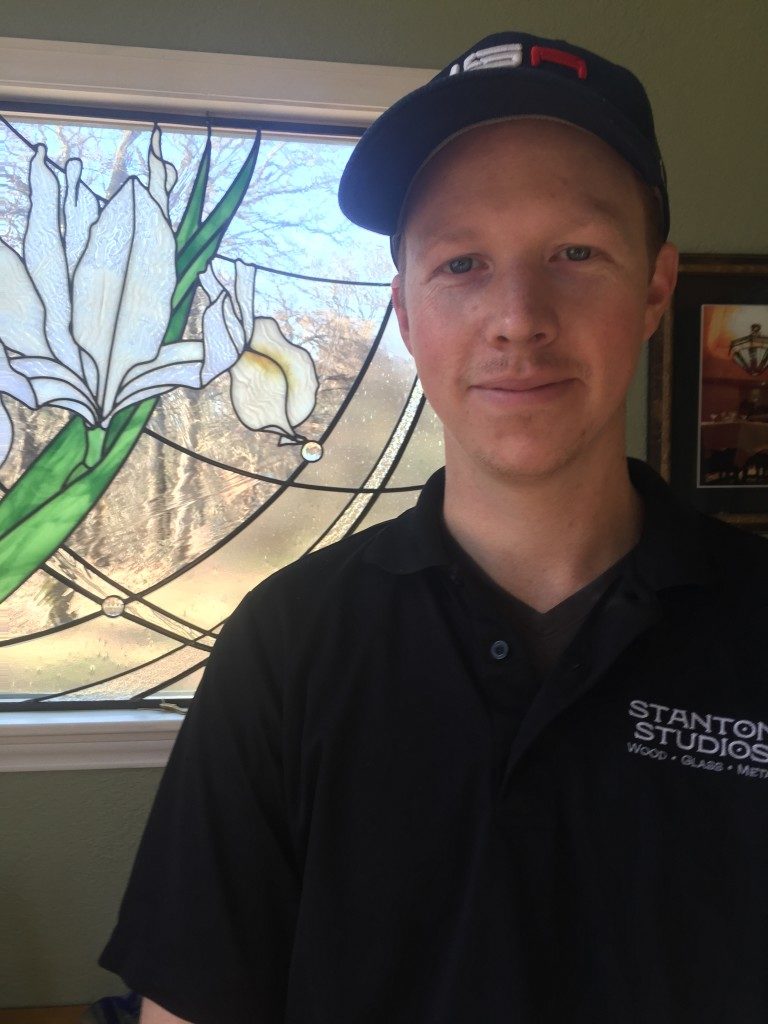 Jordan has been manager of Stanton Studios for approximately 9 years and explained that he really loves his job. When asked why, he jokingly admitted, "I like to boss people around." On a more serious note, Jordan replied, "the job is creative and there's always a new challenge going on. It's very rewarding work." Jordan went on to explain that he finds the creations of Stanton Studios to be beautiful and high quality, and he loves to see a client receive their piece and be satisfied. Jordan says "It's nice to make something beautiful and there's a lot of satisfaction in the joy you bring your clients."
Not only does Jordan do his job well and enjoys the tasks associated with his job, but the artisans that he manages love him as well! Jordan can always be found mingling amongst the other employees, teaching, telling a joke, quoting a funny movie, or singing very off-key. Jordan brings joy to the workers and has found a way to motivate them and enforce their project deadlines, while keeping the stress level low and allowing everyone to enjoy themselves.
Below are some of the nice things that the artisans had to say when questioned about having Jordan as their manager!
Aaron: "The atmosphere when he's around is relaxed and he generally is always in a good mood and has a great attitude."
Tim: "He's the hardest working on job sites, he livens up the room with his singing, and he's easy to get along with."
Samuel: "He is very patient and kind, and he's fun, but he's serious about his work. He's a genuine person."
Miguel: "He does a great job. He's very willing to listen and he mentors and teaches."
All of the staff really appreciates Jordan as a manager and he does a great job on all of his daily duties. Jordan is responsible for keeping up with project deadlines and acting as a liaison between the architects, designers, builders, and clients, as well as keeping the artisans in the workshop on track. He gives them direction as to what project they should be working on and he is the one to turn to with any questions in regards to the building process. Jordan is also in charge of the holiday glass blowing events that happen in November and December! He is our master glass blower as well as our master metalworker and has experience with countless things throughout the shop. He has done everything from welding light fixtures to building windows and shaping hot glass.
Because Jordan had, "started from the bottom," he is an exceptional artisan and had perfected all of the processes involved in creating stained glass windows before he was promoted to manager. This allows him to be a perfect mentor and teacher to the artisans in the shop, and he patiently teaches and answers any and all questions in regards to projects.
---
---
Jordan has been able to stay on top of every aspect of the shop, while maintaining a wonderful attitude that rubs off on all those who have the pleasure of working around him! Stanton Studios is lucky to have such a great manager and we couldn't have produced the masterpieces that pass through our shop without the watchful eyes of Jordan, who made sure each piece was done correctly and completed in a timely fashion. We look forward to many more years of direction and laughter with Jordan as our manager!