---
David Louth, our newest bench craftsman, has an interesting story and we couldn't be happier to have him working here in the shop with us! Join me as I discover David's background, how he became a stained glass artist, and how he feels about working in the shop!
---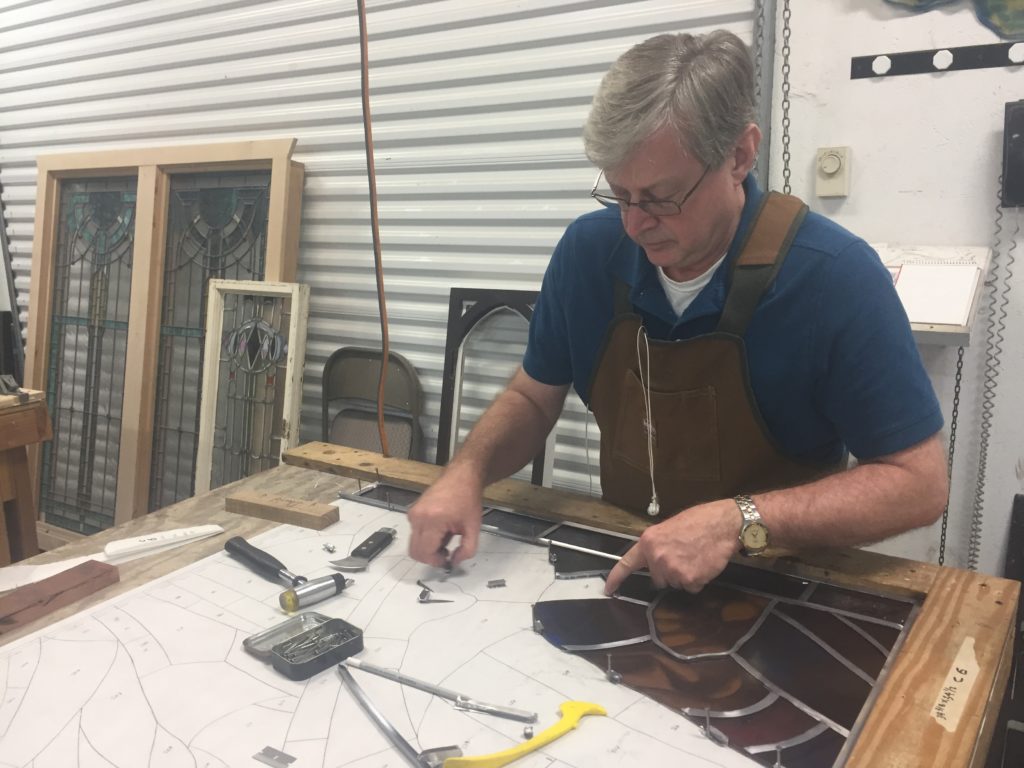 David Louth, an IT worker with two children and one grandchild, found his passion late in life. David had always liked art since he was young, but unfortunately, he did not pursue a career in art until about 13 years ago. David worked as a tech person for most of his adult life, but when his wife signed him up for a stained glass class, David found that creating and building stained glass was something he really enjoyed doing. After signing up for another class and learning a bit more of the trade, David was able to start making some of his own pieces.
David primarily made sun catchers and small pieces using copper foil. He also created miniature 3-D butterflies and repaired a few windows and doors for a local antique store. When asked what his favorite stained glass projects to work on were, he admitted that his favorite pieces to create are portraits out of glass, which is his own unique talent that he brings to the art of stained glass making.
The word spread of David's hobby of making stained glass works, and he soon began a shop so he could continue his passion and make small works for his clients. Thus, Charis Studio was born! Though he has continued to do his own work on the side, we are so happy that David spends his days with us!
---
David became interested in us through his church, Christ Episcopal in Temple, where he serves as the worship leader. He explained that he was very impressed with our refurbishment of their stained glass windows, which was no easy feat. Stanton Studios has actually restored windows for Christ Episcopal, as well as created new works in the past years. Surprisingly enough, David was on the committee that chose Stanton Studios to be the studio that would handle the church's stained glass needs! We were flattered and honored to be able to do such wonderful projects for them and we were so proud of our designer and builders for their great work.
After David followed us on social media and continually saw updates of our progress on projects, he said he felt like it was a good time to reach out to us and inquire about a position as a bench craftsman, and we couldn't be happier that he did! We were very excited to gain another member in the Stanton Studios family workforce. Now, David can be a part our projects and help us to restore and build windows for other churches in the future, just as our studio did for his church home.
David has explained that he has a lot to learn, but he's very excited to know more about such a wonderful skill. David expressed that he'd like to expand his knowledge in glass by gaining insight on how to do fusing and glass blowing. David explained that his interest in painted glass has also peaked as he's watched our in house painter, Joe Barbieri, and he is also interested in learning how to paint on glass. In his short time since coming here, David has already learned a lot of tips and tricks regarding building windows and the leading process, and we are glad to see David is having a great time and that he's such a wonderful worker and asset. We can't wait to have many more years with him in the shop and we are very happy to see him build on his knowledge and build more beautiful pieces!
Currently, David is working on assembling windows for St. Louis Catholic School in Waco, Texas. We are excited to see the windows completed and we are so happy that David is helping us with this great project!
No one is as passionate about their work as our newest bench craftsman, David, who drives an hour to and from work everyday just so he can come and do something he loves! When asked what he loves about working with stained glass, David replied, "I like it all. There's just something about working with my hands. It's such a tactile activity and I love everything about it. I love the smell of the grout and seeing the finished product." When asked about how he feels about working for Stanton Studios, David admitted that he has really admired the studio for a long while and was very excited to begin working for a studio that has accomplished so much.
---
We are so happy to have David working here with us as our newest member to the team, and we can't wait to see what wonderful windows he will be a part of building! In his short time here, David has already proven to be a hardworking and funny individual who gets along well with all the Stanton family, and we look forward to seeing his progress!