---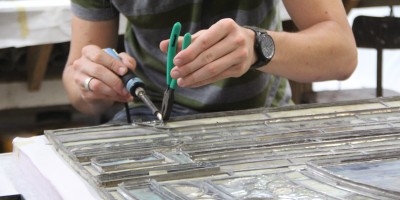 Samuel Stanton, son of owner, Bryant Stanton has been working at Stanton Studios for most of his adult life and has seen many different types of stained glass windows. Working with glass is his forte and he is very experienced in not only creating new stained glass works of art, but restoring old masterpieces as well. However, it wasn't until late August that Samuel received one of his most challenging renovation projects yet: a work in Tiffany glass.
Tiffany windows are some of the most intricately made and challenging works to deal with and the creator of the windows, Louis Tiffany, was known by all as the "Rebel in Glass." He reinvented stained glass and started trends that were extremely difficult to copy, but were in very high demand. Tiffany was interested in using glass in layers to create the desired colors rather than the traditional method of painting the glass. If Tiffany wanted to have a certain color, he would layer one colored sheet of glass over another and when the light shone through, it would create the perfect color that he desired. Because of this, some of his works are several layers thick.
Also, Tiffany was a fan of using drapery glass, which is a textured type of glass that is created when a layer of glass is bunched while heated. Rather than using the traditional flat sheet glass and painting clothes on the glass, drapery glass was used to create the effect of looking like clothing that has naturally wrinkled as it falls down the body and is prevalent on the top layer of this particular restoration project that Samuel is undertaking.
---
The window that is being restored is called Peace Angel and it has hung in the First Presbyterian Church in Galveston since the early 1900's, weathering all sorts of storms and bringing joy to all of those who look upon it. However, now it is finally time to take it down for the first time and make it appear as new again.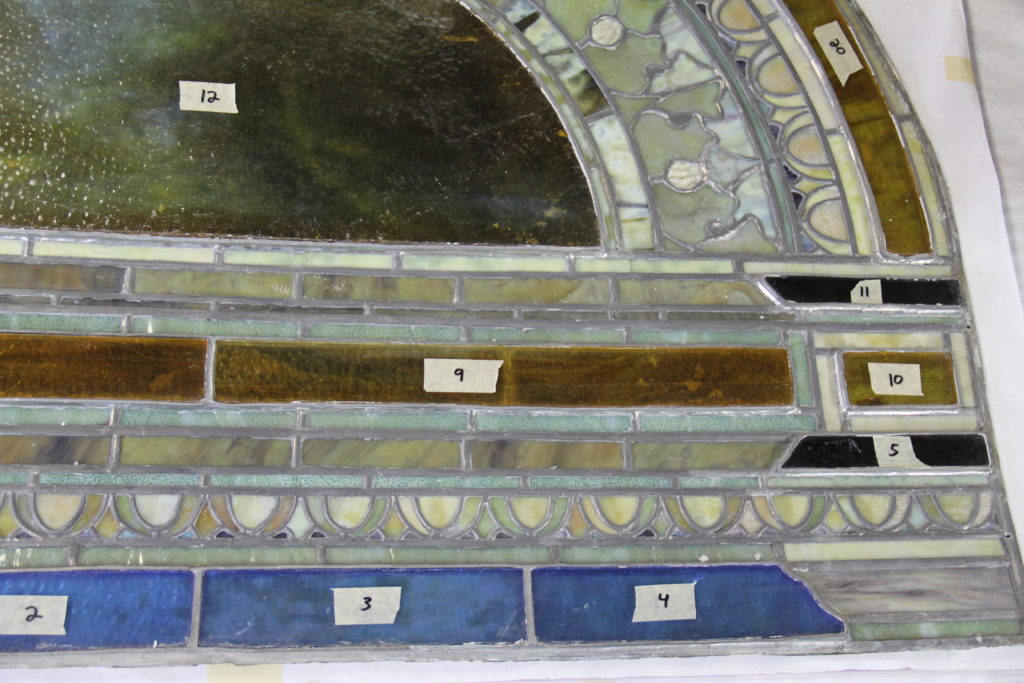 Samuel has bravely taken apart this 18 ft. by 4 ft. stained glass and has explained the difficult process of how the restoration is done. Since the stained glass as a whole is up to eight layers thick in some areas, Samuel explained that he must make an etching of each layer as he takes it off as well as take photos, so as to know exactly how each piece of glass was positioned in each layer so he'll be able to put it back together. Once the layers have been separated from one another, Samuel then labels the glass pieces with numbers from each layer in a way that he will know which piece went where in which layer. Confused yet? But that's not all. Samuel also has to take into account the lead that was used to hold the glass in all the layers in place. Since he had to take it all off in order to be able to separate the glass and remove the layers, new lead barriers will have to be created for the entire piece that will somehow fit all of the layers of stained glass as it was when he began. In order to do this, samples of the lead will have to be sent out to be matched and upon their return, the new pieces will be used to recreate the beautiful window. Talk about an amazing, tedious, and time-consuming jigsaw puzzle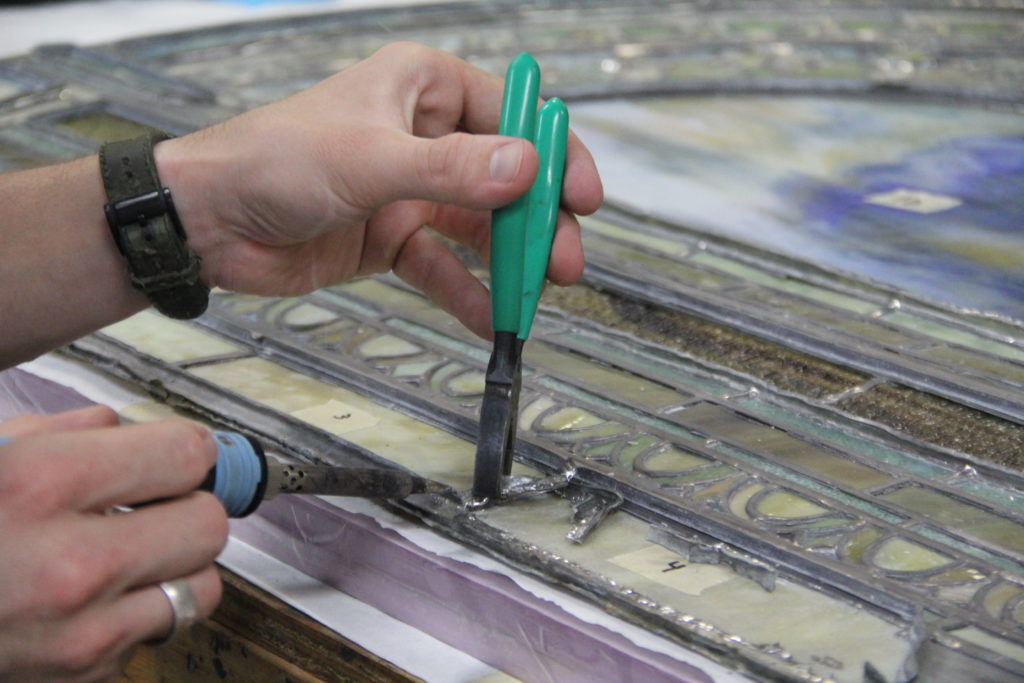 Though it has been challenging, it was a real honor for Samuel to work on such a historic and intense window. When asked about Tiffany, Samuel admits, "Tiffany was not afraid of the challenges in making his art vision come to life," but Samuel also acknowledges that that he has no regrets in taking on such a difficult project. "It's been a real learning process. It's been fun."
Samuel expects the window to be complete by early into the upcoming months of 2017 and everyone is looking forward to seeing the finished restoration.