Look for the 2023 glassblowing schedule in late summer!
---
HOW IT WORKS:
Once you make an appointment with us, just show up to our hot glass shop 10 minutes before your appointment time, ready to create a masterpiece! You'll start by signing in at our front desk and choosing your glass colors.
We have over 50 different colored frits (glass) to choose from, and several different designs that can be used for each piece! Up to three colors can be used per piece, and our master glassblower, Jordan Stanton, will create your piece based on the colors and design of your choice.
The events are by appointment only and will also include a coffee and hot chocolate area for the cold weather, seasonal decorations and a photo booth, souvenirs, and music! A limited supply of souvenir glass-blown pieces made by our master glassblower are available for purchase during your appointment. Prices vary depending on your choice of piece. Grab your family and friends and start your own glassblowing tradition!
Our goal is for you to leave with a glass masterpiece and one-of-a-kind memories!
All ages can participate in the events, and the actual "blowing" of the ornament is fairly simple. Blowing the molten glass into an orb for an ornament or pumpkin is similar to blowing up a balloon. While Jordan will handle the shaping of the piece and the addition of the colors, the participant will blow it into shape. The glass-blown pieces can vary slightly in size and design since each one is homemade.
Your piece will not be ready to take home the same day because the glass is still 900 degrees at the end of the process. It will need to cool down slowly in the annealer overnight and will be ready for pickup the next business day (we are closed on Sundays). We also have delivery and shipping options available, if needed.
---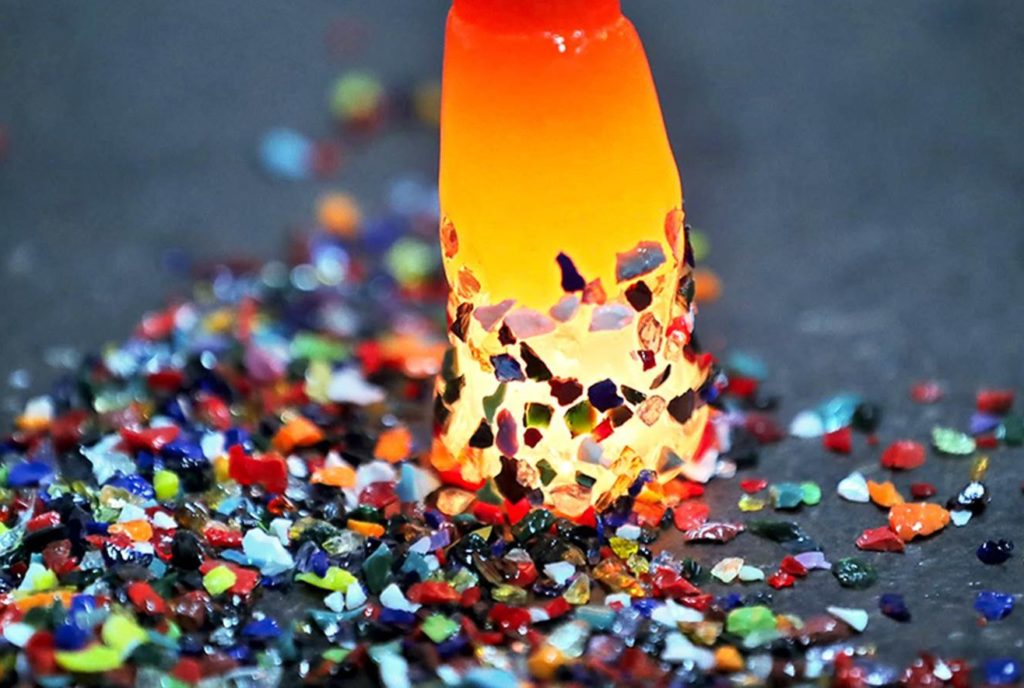 Interested in knowing more about the process of making a glass-blown masterpiece? Here's how it's done:
Our kiln, which is a furnace that heats the glass, will be heated to 2000 degrees approximately 24 hours prior to the events.
Using a blowpipe, Jordan will gather some molten glass on the end of his blowpipe and then marver – or shape – the molten glass into a cylinder.
He will then add the flecks of color that you choose and place the glass into a furnace to heat up the colors.
Next he will blow into the end of the blowpipe, filling the molten glass with an air bubble.
After this, he will heat the glass in the furnace once again before placing a hose on the end of the blowpipe for the participant to use to blow their piece.
Then, it's the participant's turn to blow! After attaching a hose to the end of the blowpipe, the participant will blow air into the hose and watch as the glass expands like a balloon being inflated. During this time, Jordan will shape the piece into the correct shape.
He will then make final adjustments. While his assistant, Tim, cuts a jack line and breaks the glass off the blowpipe, Jordan will go to the kiln and get more glass on another blowpipe and attach the bit of molten glass to the top of the piece to make a hook or stem using a torch and tweezers. The piece will then be housed in the annealer for 24 hours so the glass can cool down slowly and avoid cracking.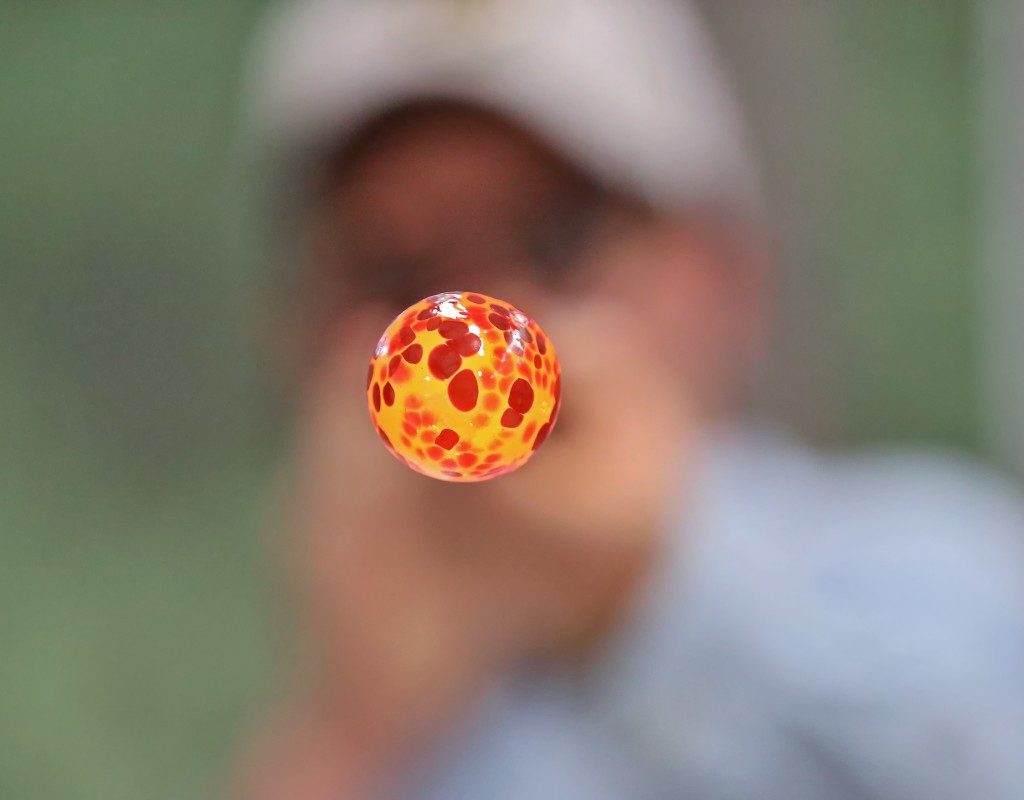 ---
GLASSBLOWING FAQ'S
What should I wear? We require that each person in the hot glass shop be wearing closed-toed shoes. The hot glass shop is in a pavilion-style building, so please dress according to the weather.
What ages can participate? All ages are welcome to participate in our events, but younger children may need parental assistance.
How long does each piece take to create? The entire process from choosing colors and designs to creating the glass-blown masterpiece takes about 15 minutes per piece.
Can I take my piece home with me immediately? No, the piece will need to anneal for 24 hours. We can offer shipping for an additional fee if necessary.
Where are you located? Stanton Hot Glass is located on the Stanton Studios property. We are located north of Waco, about 7 miles north of Loop 340, off of FM 933/Gholson Rd.
Can I purchase a pre-made pumpkin or ornament? Yes! Stanton Studios has several pre-made pumpkins and ornaments that are available for purchase at the time of the events. These pieces are individual priced and are always gorgeous! We'll also have other glass and wood souvenirs available for these events, including glass vases and custom wood coasters.
---
FIELD TRIP AND GROUP INFORMATION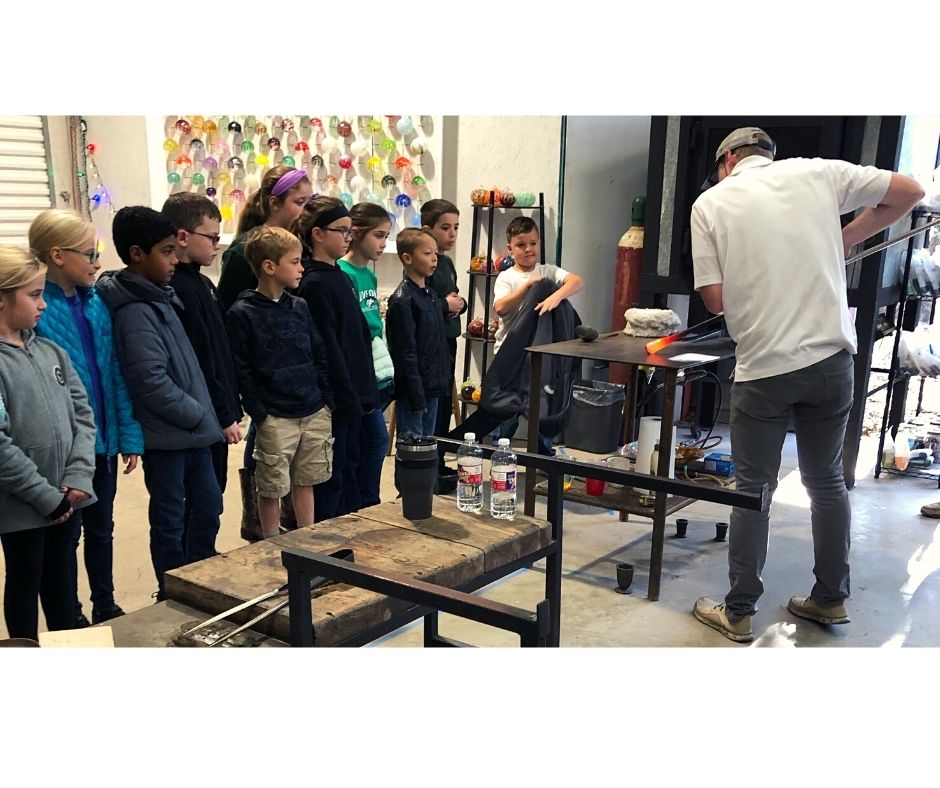 Stanton Hot Glass offers field trip events for schools and group event options for businesses! For more information on having a holiday event with us, send us a message!
---
Come with family and friends, and leave with a glass-blown masterpiece and wonderful memories. To make an appointment, click on the link below or call 800-619-4882 or email jordan@stantonglass.com for scheduling of groups of 9+.