---
We'd like to present some of our favorite residential pieces of the past! Through the mediums of glass, metal, and wood, Stanton Studios is capable of creating a vast array of custom pieces! Some of these unique pieces include custom doors, cabinetry, glasswork for sidelights and transoms, light fixtures, and custom stained glass pieces and inserts. Check them out below!
Number 1: Stained Glass Bath Window
Having a window in the bathroom is an age old idea. Not only does it make the room look brighter and fresher, it supplies the room with much needed light! Having a window over the tub is beautiful and supplies a relaxing ambiance, and adding a painted stained glass window to the bathroom adds a unique twist! Having a stained glass painting that emits natural light is one of the best ways to decorate a space and make it functional. It aids in making the bathroom look classy and elegant!
We loved the design of this bathroom and the way the project turned out when it was installed! The window was designed by our owner and designer, Bryant Stanton, and was painted by Joe Barbieri, our in house painter! The nature scene shows flowers in bloom and the bright colors really create a focal point for the room!
Number 2: Cabinets for a Study Room
Stanton Studios wood shop, Stanton Woodworks, outdid itself creating these beautiful cabinets for a study in this home! The deep, rich color of the wood matches the rest of the client's color scheme and makes for a sophisticated study! Nathan Stanton, our master woodworker, fabricated the cabinets and our Stanton Studios bench craftsmen created the clear glass inserts.
We loved the star design in the glass inserts and we were happy to see how it looks with the rest of the room. Our clients have great taste and we are always excited to be featured in the making of someone's home. We are honored to have our masterpieces placed into homes such as these and we can't to see what cabinets Nathan will make next!
Number 3: Door With Transom and Sidelights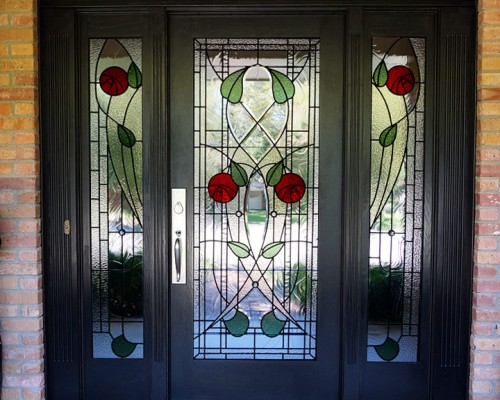 Bryant designed this gorgeous window and sidelight piece for a residence in Austin, Texas! The front entryway is designed to mirror roses and the theme is nature.
Our glass shop and wood shop worked together flawlessly to make this come to life! The inserts in the door, the sidelights, and the transom were handmade by our bench craftsmen in the stained glass shop and the door was made by Nathan.
At Stanton Studios, we believe that an entryway is the handshake of a home. It is the first impression, so we are always excited and honored to create pieces such as this. It came out beautifully!
Number 4: Window Over Kitchen Sink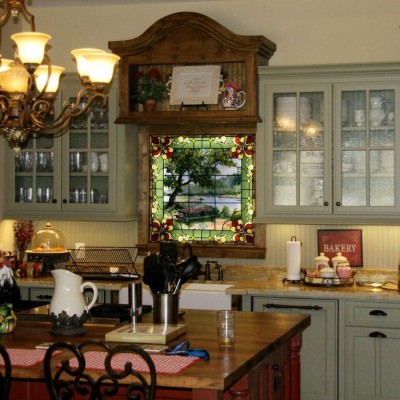 Though it is very popular to have a window above the kitchen sink for the purpose of adding natural light into the kitchen, it is a unique and artistic twist to have a stained glass window like this one!
This client worked together with our designer to find an image that she liked, and then Joe painted the beautiful scene on the glass! The nature scene really compliments the color scheme of the kitchen and the stained glass adds a great artistic touch to the space! We really love our client's good taste in design and we loved being able to put our work into such a unique place!
Number 5: Windows and Door for Loft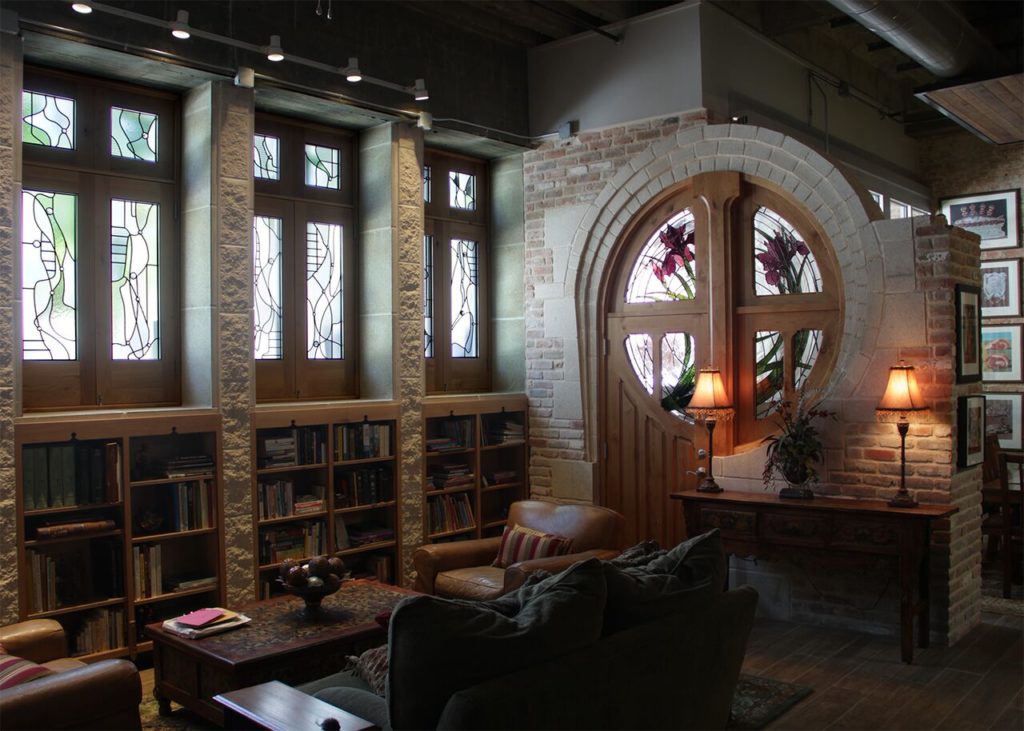 Stanton Studios was responsible for multiple designs and pieces in the 714 lofts that are located in downtown, Waco, but some of our most prominent works are featured in this picture of this particular loft room.
Our designer created the beautiful glass designs of the windows above the shelves, as well as the uniquely shaped door with the glass inserts. Our glass shop cut out each piece of glass by hand and fabricated the stained glass pieces in each window and in the door, and our wood shop created the door. The shelves below the windows were also designed and fabricated by our wood shop and turned out wonderfully.
Put the pieces together in the same room and we see a beautiful scene that looks magazine-worthy! We loved the way the lofts were designed and we're proud to have our pieces in such a gorgeous space!
Number 6: Stained Glass Window For Library
This is another stained glass painted piece that was painted by our Joe. Joe created the scene to look as if there are flowers and trees that a person could see as they visited this library room or sat down to read a book. It is amazing that one of the trees in the stained glass painting is a painted tree, while the other tree that can be seen is actually a real tree that is outside and can be seen through the window! This was a fantastic painting job and Joe expertly bridged the gap between the painted work, and the nature outside of the window.
It was one of our favorite pieces to create and one of the coolest pieces to see installed! We always enjoy Joe's landscape and nature paintings and we can't wait to see what he will paint next!
Number 7: Custom Wood Breakfast Table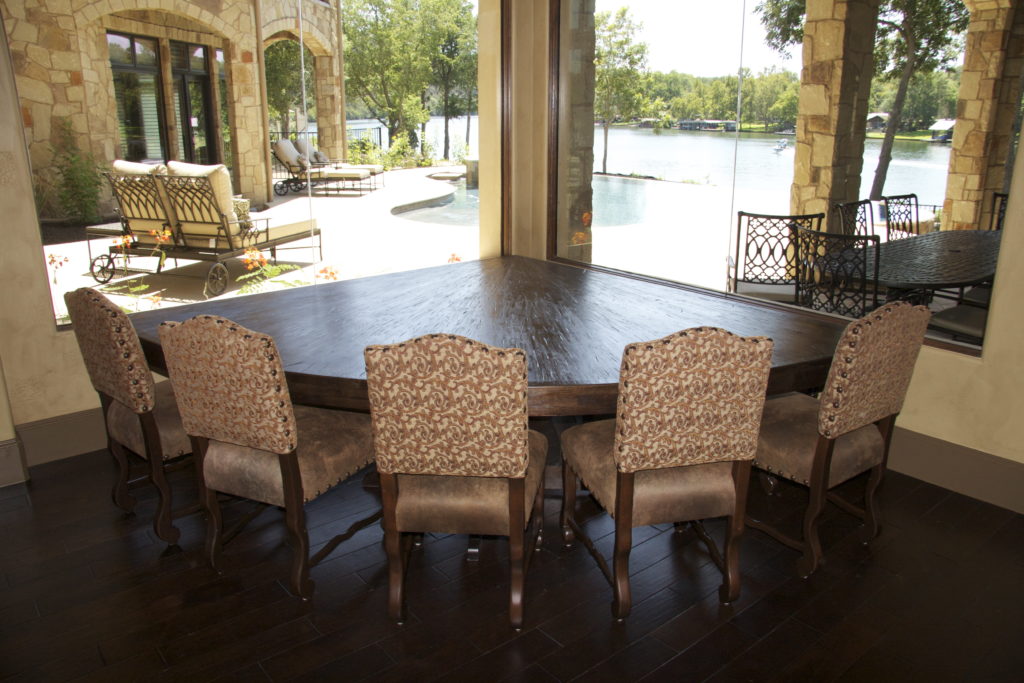 This table was custom-made by our wood shop to fit into this breakfast nook! By creating a table in this unique shape, it fits the space perfectly and provides the maximum amount of seating for the space. The table was designed by Bryant and fabricated by Nathan.
It is a fun sight to see how a custom wood piece fits perfectly into our client's homes!
Number 8: Skylight for Over a Stairwell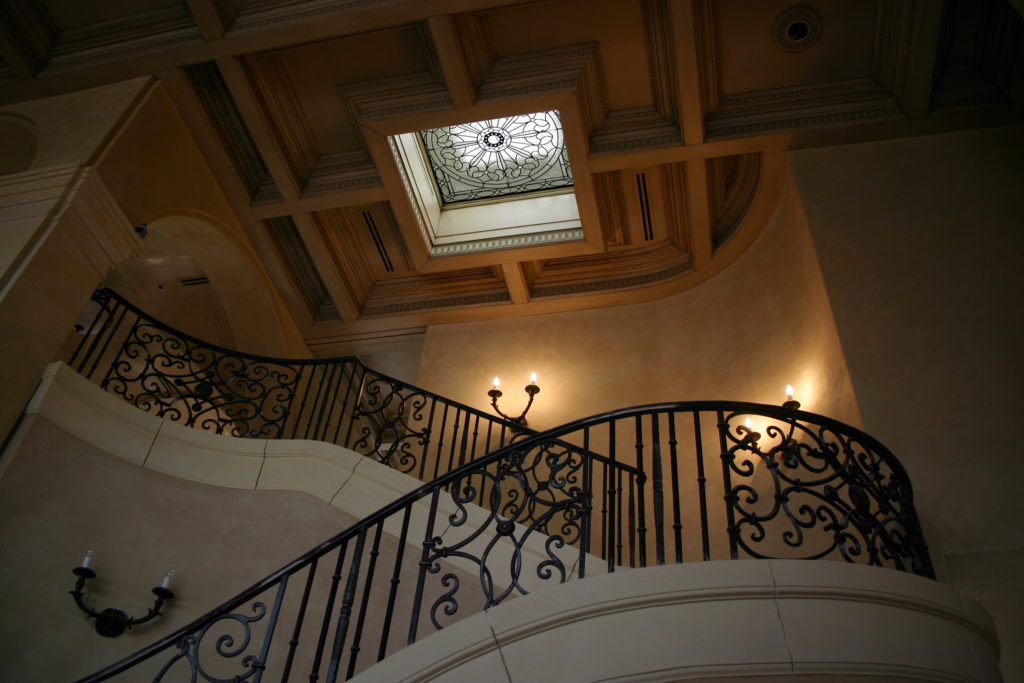 Stanton Studios had the privilege of making a stained glass skylight that was placed over a staircase in a home in San Antonio. The skylight not only provides natural light over the stairs, but the clear glass design looks beautiful with the rest of the home.
Our designer and the client worked together to create the perfect fit for the style of the house and of the space It is exciting when we see the finished product!
Number 9: Wall Sconce for a Powder Room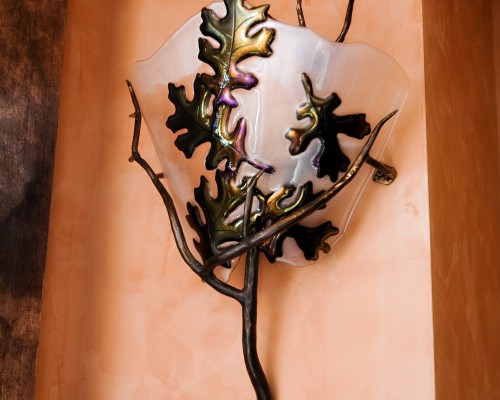 This wall sconce was created for a powder room! The metal leaves and the twigs are representative of nature and the sconce itself was made to shimmer and shine in the bathroom! This piece was one of our favorites to design because we used elements that were found right outside of our shop to create it. The stencil for the leaf design came from right outside our door and the piece itself is a reflection of where the Stanton's live and work. Bryant puts tremendous thought and tender care into the design and creation of each piece, and it's always a reward to see our clients enjoy the finished product.
Number 10: Door with Glass Inserts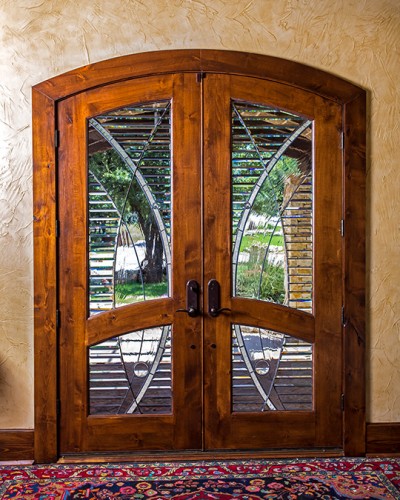 For this piece, our clients came to us with a solid wood door and asked if we could make clear glass inserts to go inside of it. The result is a beautiful door with clear, textured glass in an abstract pattern. It made for a great front entryway and we had a blast taking something that was already made and vamping it up!
This door is located in a residence in China Spring, Texas and we had done several other works for this one residence as well. This client also had us complete a glass insert for a door that had the image of the golden mean and a beautiful clear glass angel stained glass piece! We loved bringing this residence to life and being a part of its decorative process!
---
---
These are just a few of Stanton Studios great residential works that we have had the pleasure of working on! Our clients have created wonderful homes and we love making custom designs to match each of our their styles and tastes. From light fixtures to cabinets, Stanton Studios craftsmen give their all on every piece and we hope you appreciate the artistry as much as we love making them for you.
Interested in knowing more about our residential pieces? Check out our portfolio at http://www.stanton-studios.local/portfolio or call us at (800) 619-4882!