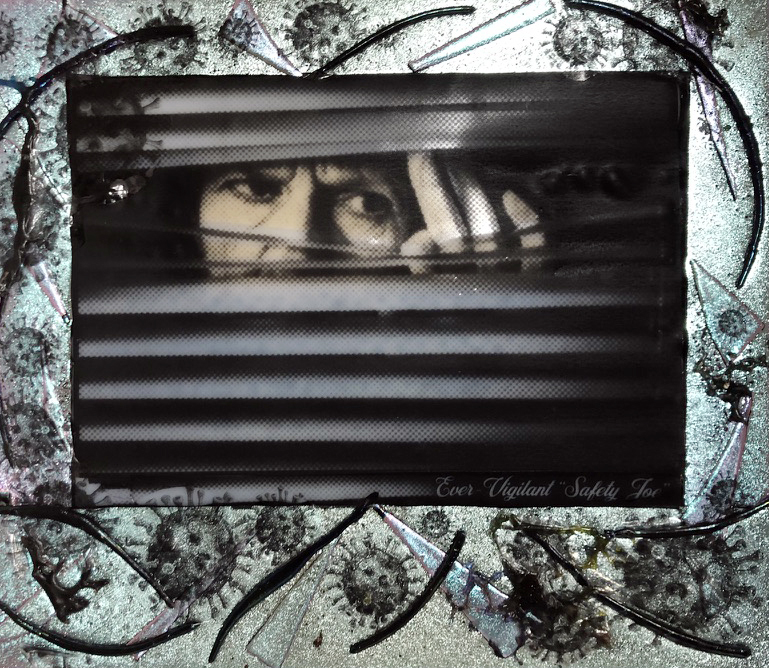 In the wild west, only 'nefarious bad guys' went into banks wearing masks. Now we are all required to wear masks in public.
To Combat the Blues, Sharpen Your Tools
The coronavirus has placed a lot of businesses in an extended state of 'suspended animation.' Unlike a winter snowstorm that shuts down a region for a day or a week, the virus has crippled our country for months now, with our schedules and supply chains disrupted. Like airplanes circling a busy airport waiting to land, finished windows lean on glass racks in my studio waiting to be installed. Other projects are on hold until churches and other businesses open back up. Zoom meetings have replaced travel and face-to-face, in-person meetings.
These uncertain times weigh heavily on the psyches of all in my employ. While speaking with a friend, I told him I felt like there is a palpable pale hanging over our country, in our homes, and in our workplaces – a lingering feeling of dullness, out of sorts, and the loss of the usual routine of life. As of this writing, I never thought the virus would still be gripping our country, lingering like a dark cloud. Some of my studio's summer part-timers are college students who wait in limbo to hear news of when their colleges will open back up and what their futures will look like.
As a teenager, I worked on a cranberry bog. After the fall harvest, we sold 'cut-your-own' Christmas trees. Whenever inclement weather rolled in, my boss kept us busy working indoors. Our hands were never idle. We worked on servicing tractors and farm equipment, sweeping floors, repairing tools, and sharpening axes and lawnmower blades. We never had downtime. We would always be preparing for the next growing season.
We have cleaned our studio top to bottom. We have built new glass racks and workbenches. We have organized and reorganized glass bins. My crews have worked on all of the little 'some-day' projects around the shop. We have sharpened our tools and swept the floors anticipating the harvest and the next growing season. We are ready.
I have, in part to busy myself, worked on COVID-Art and fused glass pieces. I have been intrigued by the similarities between the 1918 Spanish Flu pandemic and the 2020 coronavirus pandemic. The world's response to the handling of the virus is very similar to then; wear a mask, wash your hands, social distance, etc. During both pandemics, the conversations turned to first shutting down the nation(s) and when to open things up again. A 'damned if you do and damned if you don't' proposition both then and now.
Is the world going to hell in a handbasket? The reality is the world will continue to change at a rapid pace. Disease, cures, technological achievements, and politics will always be a part of our everyday lives. Still, creativity, art, and emotion will always be there clamoring to come out and be expressed. Art lives through our human experiences as we pour them into our work.
The Spanish Flu (H1N1virus) came to an end by the Summer of 1919, there was no cure. A full year after it started those infected with it either died or developed an immunity. Here we are again, the new normal is actually the 'old normal' in we are hoping for 'our lives' to return to normal in the meantime lets' keep sharpening our tools.
"Be regular and orderly in your life so that you may be violent and original in your work." Gustave Flaubert
"…make it your ambition to lead a quiet life: You should mind your own business and work with your hands, just as we told you, so that your daily life may win the respect of outsiders and so that you will not be dependent on anybody." 1 Thessalonians 4:11-12
Bryant J. Stanton / Stained Glass Quarterly / Editorial Committee Chair/ Summer 2020 SGQhttps://stainedglass.org/magazine/subscribe/